L'impact de l'étude expérientielle de l'environnement proche dans le questionnement au monde en cours préparatoire
During this year of master MEEF, I carried out a research work on understanding of the organization of the close space by a student trought a method named « the approach of 4I ». The purpose was proving the effect of experiental geography of immediate environment for the questioning of the world of CP. First, initial representations of three learners (6 and 7 years old) on the classroom space was collected. Then, they discovered trought two lessons: immersion, interaction, institutionalization, implementation. Finally, final représentations were compared with those of the beginning of the device for check out the effects of experential geography on understanding of the organization of the close space of students. The qualitative results show benefits of the method « experience of his own space » for CP, in the development of skills of « questioning the world ».
Au cours de cette deuxième année de master Métiers de l'Enseignement, de l'Éducation et de la Formation (MEEF), j'ai réalisé un travail ayant pour thème la compréhension de l'organisation de l'espace proche par un élève de CP. Pour cela, a été mise en œuvre la « démarche des 4i » afin de mesurer l'impact de la géographie expérientielle. Après un recueil des représentations initiales de trois élèves âgés de 6 et 7 ans, deux séances leur ont permis de vivre l'immersion, l'interaction, l'institutionnalisation et l'implémentation. Les résultats, de nature qualitative, démontrent les bénéfices de la méthode « faire l'expérience de son espace » pour des CP, dans le développement des compétences du domaine « questionner le monde ».
Fichier principal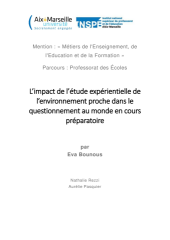 BOUNOUS_EVA_Mémoire.pdf (6.17 Mo)
Télécharger le fichier
Origin : Files produced by the author(s)