Écriture et rêverie dans Notre-Dame-des-Fleurs de Jean Genet et Vies minuscules de Pierre Michon
In the many interviews Pierre Michon has given, Jean Genet's name is rarely mentioned. However, it is quoted at a crucial time: when he is asked to list the authors who are his contemporaries. If Genet is considered by Michon as one of the writers from whom he can "seek advice", it is because the author of Notre-Dame-des-Fleurs has understood that writing is above all about maintaining a fantastical relationship with the world and with language. Based on Michon's hypothesis, this study attempts to establish a connection between two "life stories", stories of dreamed lives: Notre-Dame-des-Fleurs and Vies minuscules. To do so, I undertake to think about the plurality and polymorphism of the relationship between writing and reverie. Thus, I intend to make the intersection of these two modes of imagination the point where Michon's work and Genet's can meet each other. I propose to think the reverie as a textual scenography that responds to reflexive, aesthetic and ethical functions. This definition of literary reverie opens the way to a comparative approach able to underline, through the confrontation of the both works, originality of each of them.
Dans les nombreux entretiens accordés par Pierre Michon, le nom de Jean Genet est rarement cité. Il l'est pourtant à un moment crucial, lorsqu'il lui est demandé d'énumérer les auteurs qui lui sont contemporains. Si Genet est considéré par Michon comme l'un des écrivains auprès duquel il peut « demander conseil », c'est que l'auteur de Notre-Dame-des-Fleurs a compris qu'écrire, c'est avant tout entretenir avec le monde et la langue un rapport fantasmatique. Partant de cette hypothèse, ce travail tente donc d'établir un rapprochement entre les deux « récits de vies » – de vies rêvées – que sont Notre-Dame-des-Fleurs et Vies minuscules. Pour ce faire, il entreprend de penser la pluralité et la polymorphie des rapports entre écriture et rêverie. Ainsi, ce mémoire entend faire de l'intersection de ces deux modes de l'imagination le point où se rencontrent l'œuvre de Michon et celle de Genet. Nous proposons de concevoir la rêverie comme une scénographie textuelle, qui répond à des fonctions réflexive, esthétique et éthique. Cette définition de la rêverie littéraire ouvre la voie à un travail comparatiste soucieux de souligner, par la confrontation des deux œuvres, leur originalité respective.
Fichier principal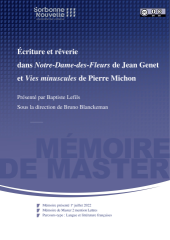 LEFILS_Baptiste_Memoire_M2_Genet_Michon.pdf (1.17 Mo)
Télécharger le fichier
Origin : Files produced by the author(s)