Face au défi d'évaluer l'impact de l'éducation au commerce équitable en milieu scolaire : réflexions sur les principes, paradigmes et usages de l'évaluation d'une « éducation à... », à partir d'une étude longitudinale de l'expérience du projet « Jeunes Ambassadeurs du Commerce Équitable »
This research questions the principles, paradigms and uses on fair trade education evaluation. It is based on the study of the project "Young Fair Trade Ambassadors", led in a French private vocational and technological high school between 2015 and 2018.
The theoretical framework used combines the sociology of configurations, pragmatic sociology and learning theories, based on the thoughts of Dewey, Bronfenbrenner and Morin. The survey methodology combines temporal, comprehensive, descriptive approaches.
The research permits to identify changes in life course narratives of the participants in this project. Effects according the sociology of education are highlighted. A systemic overview of the evaluative procedures carried out during and after this project links subject-evaluators to the complex systems in which they operate.
Based on the work of Liarakou & Flogaitis, the analysis reveals that paradigms of evaluative choices seem out of step with those of educational choices and those of the political orientations of fair trade education. A critical look is given to the institutional and social demand underlying the evaluation.
A debate is opened on the value given to intentions and behaviors, especially when evaluating for donors.
This work is a call for further collaboration between the social worlds of school environment, global educations and science of education community.

Cette recherche questionne les principes, paradigmes et usages de l'évaluation de l'éducation au commerce équitable. Elle s'appuie sur l'étude longitudinale du projet « Jeunes Ambassadeurs du Commerce Équitable », mené dans un lycée professionnel et technologique privé français entre 2015 et 2018.
Le cadre théorique mobilisé allie sociologie des configurations, sociologie pragmatique et des théories de l'apprentissage basées sur les pensées de Dewey, Bronfenbrenner et Morin. La méthodologie d'enquête combine des approches temporelle, compréhensive, descriptive.
La recherche permet d'identifier des changements au sein des récits des parcours de vie des participant∙es de ce projet. Des effets au sens de la sociologie de l'éducation sont mis en évidence. Un panorama systémique des démarches évaluatives pratiquées pendant et après ce projet relie les sujets-évaluant aux systèmes complexes dans lesquels ils évoluent.
À partir des travaux de Liarakou & Flogaitis, l'analyse révèle que les paradigmes des choix évaluatifs semblent en décalage avec ceux des choix pédagogiques et ceux des orientations politiques de l'éducation au commerce équitable. Un regard critique est porté sur la demande institutionnelle et sociale sous-jacente à l'évaluation. Un débat est ouvert sur la valeur donnée aux intentions et aux comportements, notamment à l'heure d'évaluer pour les bailleurs.
Ce mémoire est un appel à de plus amples collaborations entre les mondes sociaux du milieu scolaire, des éducations à… et des sciences de l'éducation.
Fichier principal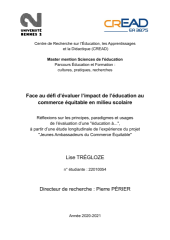 2022_MM2_TreglozeL.pdf (1.33 Mo)
Télécharger le fichier
2022_MM2_TreglozeL_AnnexeA.pdf (486.27 Ko)
Télécharger le fichier
2022_MM2_TreglozeL_AnnexeB.pdf (656.78 Ko)
Télécharger le fichier
Origin : Files produced by the author(s)