Une"petite ville" au Moyen Âge : Boussac : étude de centralité urbaine
In the north of the Massif Central, the proposed study site is an area that historiography has depicted as a 'blind spot' or an agglomeration of peripheries. Marked by this centre-periphery dialectic, studies on Berry, Bourbonnais, Limousin and Marche have insisted on the 'core areas' without asking the question of the margins or the relations between them, despite largely under-exploited sources. Influenced by the study of urban networks, this Master's 2 thesis takes the opposite view of this paradigm, by studying the functioning of a small town and its surrounding country, Boussac (Creuse), on the edge of a diocese and a province, and therefore subject to a tangle of areas of influence. Through this study, it's about focusing on a space that has always been described and mapped as a margin. Thus, the author proposes to go beyond this state of affairs through a reflection on spatial continuities in a space of territorial discontinuities.
Au Nord du Massif Central, le terrain d'étude envisagé est un espace que l'historiographie a dépeint comme un « angle-mort » ou un agglomérat de périphéries. Marqués par cette dialectique centre-périphérie, les travaux sur le Berry, le Bourbonnais, le Limousin et la Marche ont insisté sur les « zones coeur » sans poser la question des marges ni des relations entre elles, en dépit de sources largement sous-exploitées. Influencé par l'étude des réseaux urbains, le présent mémoire de master 2 prend le contrepied de ce paradigme, en étudiant le fonctionnement d'une petite ville et de son pays d'alentour, Boussac (Creuse) en bordure de diocèse et de province, donc sujette à un enchevêtrement d'aires d'influences. Par cette étude, il s'agit de centrer le regard sur un espace qui a toujours été décrit et cartographié comme une marge. Ainsi, l'auteur propose de dépasser cet état de fait au travers d'une réflexion sur les continuités spatiales dans un espace de discontinuités territoriales.
Fichier principal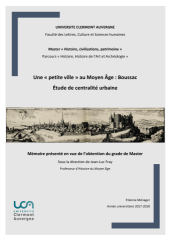 Mémoire Etienne MENAGER.pdf (91.21 Mo)
Télécharger le fichier
Origin : Files produced by the author(s)