L'espace public au défi de l'accessibilité
By definition everyone can use public spaces, so we all can meet each other there. Breathing spaces and flowing spaces structure and organize the city. Due to their diversity of shapes, compositions and uses, public spaces offer many opportunities to the pedestrian who is a privileged user. Indeed, he is the only one who is able to go in every public spaces. However, accessibility may be limited by the presence of obstacles that compromise its mobility in space and its perception thereof. People with disabilities are particularly affected by the accessibility difficulties caused by the arrangement of public spaces. Today the law evolves to erase handicap situations that can meet all the pedestrians in their daily testing. A better understanding and consideration of the specifics related to disability could help to improve the quality of access to public spaces that benefit the entire population.
Les espaces publics sont, par essence, un lieu à l'usage de tous, dans lequel nous sommes tous susceptibles de nous rencontrer. Espaces de respiration et espaces circulant structurent ainsi la ville. De par leur diversité de formes, de compositions, d'usages, les espaces publics offrent de nombreuses opportunités au piéton qui en est un usager privilégié. En effet, il est le seul à pouvoir les parcourir dans leur intégralité. Néanmoins, son accessibilité peut se trouver limitée par la présence d'obstacles qui compromettent sa mobilité dans l'espace ou sa perception de celui-ci. Les personnes en situation de handicap sont particulièrement touchées par les difficultés d'accessibilité induites par l'agencement des espaces publics. Aujourd'hui, la loi évolue pour gommer les situations de handicap que peuvent rencontrer l'ensemble des piétons dans leur expérimentation quotidienne de l'espace public. Une meilleure connaissance et prise en considération des spécificités liées au handicap peut permettre une amélioration de la qualité de l'accessibilité des espaces publics qui profiteraient à l'ensemble de la population.
Fichier principal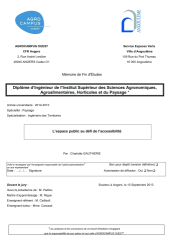 Gautherie_Charlotte_Espace_public_defi_accessibilitA_.pdf (12.84 Mo)
Télécharger le fichier