Dans quelle mesure le travail de groupe permet-il de faciliter la gestion de classe en seconde ?
This dissertation concerns working group and its interest to improve class management in 10th grade. The first part gives explanation and analysis of the NASA test. Then, we present a tool to enable evaluation on student's behaviours onthestarting work and we used it to evaluate student's behaviours firstly during an individual work then during many others lessons. Finally we discuss advantages of working group when it organised with roles or based o affinity or based on competence.
Ce mémoire aborde le travail de groupe et son intérêt pour améliorer la gestion de classe en seconde. La première partie est consacrée à l'explication et à l'analyse du test dit de la NASA. Ensuite, nous présentons un outil permettant d'évaluer le comportement des élèves au travail et nous l'utilisons pour évaluer le comportement des élèves d'abord lors d'une séance individuelle puis lors de différentes séances mettant en oeuvre différentes manières de formation des groupes. Enfin, nous discutons des avantages du travail en groupe lorsqu'il est organisé avec des rôles pour les élèves ou selon leur affinité ou leurs compétences.
Fichier principal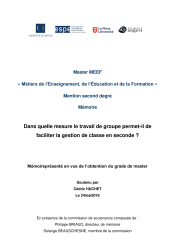 Nantes_HUCHET_Cedric_Physique-Chimie_2018.pdf (1.86 Mo)
Télécharger le fichier
Origin : Files produced by the author(s)